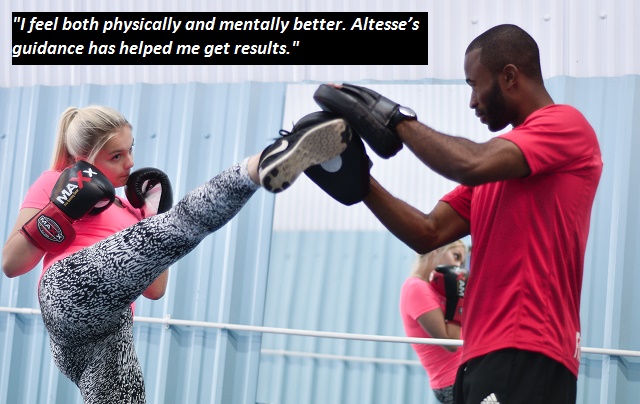 Charlotte Faiella
I have always wanted to try personal training, but never knew who to train with? When was the right time to start? And honestly, if it would be a waste of money or not? Having been a swimmer for 11 years of my life and then finally stopping in 2015, was a big change. I was keeping healthy, working out daily but in 2017 I felt like I was slowly putting more and more weight on, not challenging myself, feeling tired, and as much as I was trying I was really struggling to shift any weight, so I reached out to Altesse – which was the best decision.
Going to my one to one sessions every week with Altesse is something I always look forward to, including the other FitFunActive sessions: boxing, kettlebells and boot camp. Each session is completely different and I am challenged every week. This has been money well spent. Altesse's dedication to his clients is inspirational. He is always there on time, he is always 100 percent engaged and there if I need help or have any questions!
Altesse has also helped me massively with my eating habits educating me on nutrition that supports my goals. A challenge for me was over snacking when I got home from work and when it reached 3pm in the office, and delirium kicked in, I would always dive in for chocolate or cake. I now am aware of what snacks to eat that are helpful, keep me full and help with my afternoon sugar fix.
When people start to notice and point out the change in my body it feels good. There have been weeks where I plateaued and felt really annoyed with myself about it, but Altesse's knowledge, consistency, hard work and most importantly friendly and caring personality have completely made a difference.
Overall, I have not regretted a single moment since I started training with Altesse, I feel both physically and mentally better. Altesse's guidance has helped me get results.
October 2017
Contact Altesse on altesse@fitfunactive.co.uk
---
Josh M.C
I am a disability swimmer. I started working with Altesse in May this year. Shortly after I started to see much better results in the pool. He has been very accommodating to my disability and has managed to make me a more powerful swimmer through working on strengths and weaknesses in the gym. At my latest competition, I improved several of my best times and I put much of this down to the work I have done with Altesse in the last few months.
Therefore I would highly recommend Altesse and FitFunActive, if you're either going into fitness to improve yourself as an athlete or any other reason.
September 2017
Contact Altesse on altesse@fitfunactive.co.uk
---
Christophe Blanchard 
It is my real pleasure to have Altesse as a Personal Trainer, I have been seeing him regularly for over a year. The experience is always splendid: intense and fantastic at the same time. Intense as the level of effort expected by Altesse is consistently high but fine-tuned to my needs and ability. Fantastic due to Altesse interpersonal skills, which are really helping to make the sessions fun and positive. Yes! Even the 'dreaded' early morning workouts in grim weather when the bed is warm and inviting…
Altesse always manages to refocus me on my goal: running the Milton Keynes Marathon at the beginning of May. Over the course of the year, he has tailored my programme with a great amount of care, raising the intensity level as we got closer to the race. His regular checks during the week, to see if I was on track, have been welcome and he has often had to amend training plans to help me with the occasional injury, high workload, etc.
His dedication has been superb and I do not think I could have expected more from him. He even travelled to Milton Keynes on the day of the race to congratulate me on arrival: * I did 3h50mins by the way, which I am rather happy with for a very first marathon!
Now I have achieved my goal but Altesse will not get rid of me so easily. We have already devised a pretty challenging new goal for next April, with a series of intermediate steps along on the way to keep me focused.
If you are thinking of contacting a Personal Trainer, I can assure you that you will not regret getting in touch with Altesse. His consistency, his knowledge, his hard work and his friendly personality have completely made the difference in my case.
So to summarise, top notch guy, top notch experience, top notch results!  What not to like???
July 2016
Contact Altesse on altesse@fitfunactive.co.uk
*Improved performance related to running, for example, vary greatly from one individual to another. In addition food intake, cardiovascular function and health plus the levels of exercise and physical exertion vary in different people. This means results will also differ from person to person. No individual result should be seen as archetypal.
_________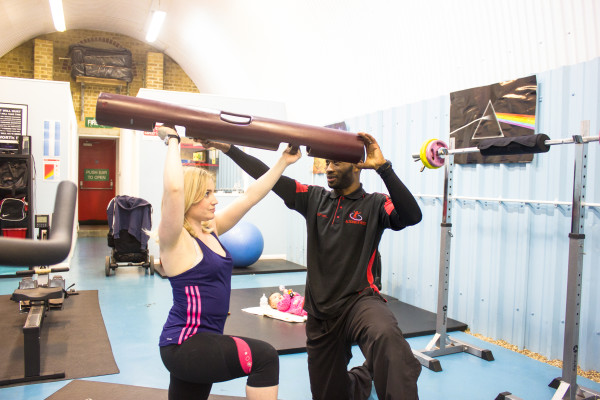 Siobhan Farrugiavella

After giving birth via Caesarean section, for the second time, I was in touch to discuss a post-natal exercise plan to help me safely regain full fitness and return to my pre-pregnancy physique. Our first few sessions focused primarily on core strength work, light cardio using the Cross trainer, walking intervals on the Treadmill and bodyweight exercises. We built on these as the weeks went on. Altesse made sure I was fully aware of the reasons behind exercise selections and progression. The core work which we did in our PT sessions really made the difference, I felt stronger and more stable within myself doing regular house chores; bending to do the laundry and hoovering, which was one of the hardest things I found to do, especially trying to reach under the sofa. *With an additional 10lbs weight loss, 3.5 inches off the waist and 1.5 inches off the hips, I was back into my pre-pregnancy size 8 dress.

April 2016

Contact Altesse on altesse@fitfunactive.co.uk

* Causes for being overweight vary from one individual to another. In addition food intake, rates of metabolism and levels of exercise and physical exertion vary in different people. This means weight loss results will also differ from person to person. No individual result should be seen as archetypal.

---
      Nicola Curran
Summer 2014 seemed like a good time to start establishing some healthy lifestyle changes. Slowly getting heavier, and never quite having the time to be active…… three personal training sessions with Altesse seemed like a good way to kick off the new regime. My goals simple, to lose weight and get more active. It was never going to happen in three sessions but Altesse's friendly and supportive manner had an impact straight away.
Each session is different: boxing: jogging, strengthening exercises and all activities done in short bursts made exercising feel achievable.
One to one training sessions were not the only way in which Altesse helped me to make positive changes. A close eye on my eating habits and weekly weigh-ins have not only made me accountable for my choices but made me more aware of them!
Holidays haven't been easy but by providing manageable activities that can be done anywhere, Altesse has helped me to maintain weight loss at times that usually end up in a few pounds on. There are also those moments in the day when a biscuit calls…. the food diary helped to identify the snacking patterns so I have been able to prepare for these, nuts, berries, a bit of protein and other foods that you don't feel guilty about later have replaced the afternoon sugar fix!
There have been weeks when nothing happens but Altesse's encouragement and belief have kept me going. The scales don't always show what you want but your clothes get looser and people start to notice. That feels good.
*12 months later and 20 kilos lighter the weight loss journey continues but thanks to Altesse the changes have become a habit. Our weekly training sessions are not only an hour of exercise but time to reflect on what's going well and where to go next. Would I have thought a year ago that I'd be enjoying exercising? No, but Altesse makes training feel manageable while pushing you. Would I have thought a year ago I'd be training for a 10k run? No way! Playing Tennis weekly and cycling daily? Nah! Training sessions with Altesse; on reflection, a good way to kick off the new regime.
October 2015
Contact Altesse on altesse@fitfunactive.co.uk
---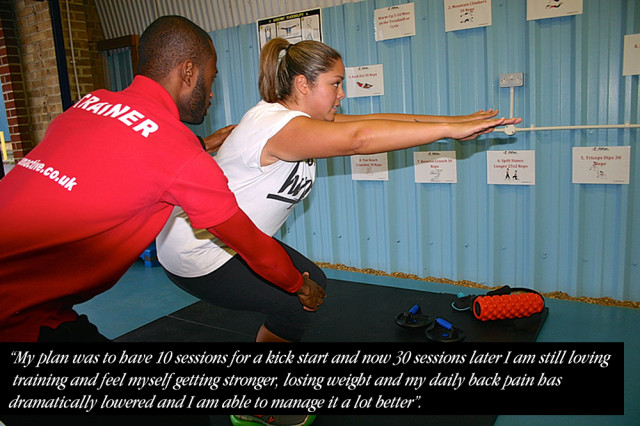 Adele Ducasse
I have a lower back injury and find it very difficult to do main-stream gym classes so I thought I would give PT a try; it was the best decision I have ever made in regards to my fitness. Altesse is an amazing trainer; he is so knowledgeable and motivating. He not only adjusts training sessions to consider my back pain while training with him but also sends me regular exercises to do at home and in the gym, always sending me new things to keep me on my toes. Altesse is very organised and always prepared for training sessions, logging all my progress down. He makes it very easy to keep to a training schedule, planning my week around my shift work. He keeps me focused on my nutrition and encourages me to continue with meal plans.
My plan was to have 10 sessions for a kick start and now 30 sessions later I am still loving training and feel myself getting stronger, losing weight and my daily back pain has dramatically lowered and I am able to manage it a lot better. I would recommend Altesse to anyone, especially those with injuries and other specific training needs.
December 2014
Contact Altesse on altesse@fitfunactive.co.uk
---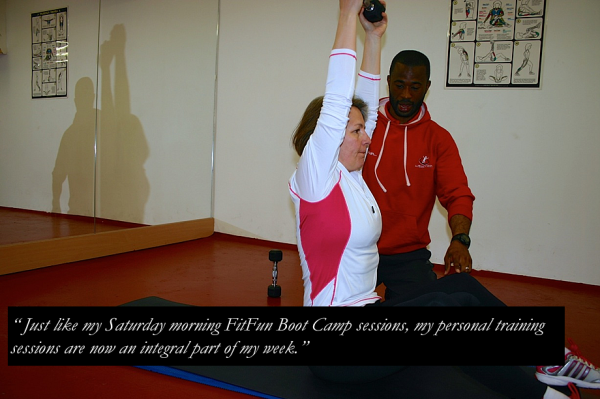 Jane Beament
Just like my Saturday morning FitFun Boot Camp sessions, my personal training sessions are now an integral part of my week. Altesse is a really supportive trainer and has helped me stay focused so that I have lost weight and improved my physical fitness levels. Each session is designed to build on previous achievements and set new goals and targets. I really enjoy my personal sessions and am more than happy to recommend Altesse and FitFun to everyone.
 May 2014
Contact Altesse on altesse@fitfunactive.co.uk
---

Megan Cruikshank
"I would just like to recommend my personal trainer Altesse, whom I've been working out with for the past year, to anyone looking to start exercising or improving their fitness. Altesse is a fully qualified personal trainer who knows his industry and how to push you to achieve the best results. He has a firm but playful manner, and although he makes you work hard during the sessions you can have a laugh at the same time. Coming from someone who has never been a fan of exercise, Altesse has changed my attitude and taught me to enjoy improving my fitness".
October 2013
Contact Altesse on altesse@fitfunactive.co.uk
---

Emma Langhorne
I have attended classes with Altesse for about a year now, starting off with half hour circuit classes at lunchtime and then proceeding to Kettlebells at the Impact Academy in Croydon and I continue to be impressed with Altesse's enthusiasm for keeping his clients fit and motivating people to do their best. He is always on time, he has never not turned up, his classes are always well organised, varied and fun, but always with a focus on working hard and pushing yourself a little further than you thought you were able and achieving your long term fitness goals.  Although Altesse gives us a hard workout, which those who are slightly fitter or more keen, want him to, he always takes time with new clients who may not be so used to exercising, to ensure they don't feel disheartened, to make sure they work at their own pace and to encourage.  I think what makes Altesse stand out as a trainer is that he really means what he says, he is genuine in his enjoyment of his work – keeping fit, challenging himself and his clients to do better, work harder etc, and this enjoyment and enthusiasm rubs off on others.
July 2013
Contact Altesse on altesse@fitfunactive.co.uk
---
Becks Moffett
I joined Ali's kettlebell class at the end of 2012, I went along with a friend who recommended we give it a go. I didn't know what to expect as I'd never been to a kettlebell class before, I was pleasantly surprised how relaxed the atmosphere was, Ali is a great instructor he works us hard and is a great motivator, I enjoy going every Tuesday. After 8 months, in fact, I can't wait for my 'Kettlebell Tuesday' as I call it now. Thanks to Ali and his fantastic attitude to health & fitness I am much stronger & fitter now than I have ever been. I would recommend FitFunKettleBells to anyone who is looking for a good way to keep fit & healthy plus tone up.
Thank you Ali
July 2013
Contact Altesse on altesse@fitfunactive.co.uk
---
Jacquie Bullen
Ali structures our training sessions with overall body conditioning in mind, whilst specifically focusing on the pre-determined target areas to help me reach my desired objectives (my abs mainly).
I would describe Ali's personal training style amiably as a "creeper". That is, he seems very gentle in approach, however before you know it, you are working very hard but by then you have reached the point of no return; thus the only way to go from there is onwards and upwards!
I am extremely happy with my personal trainer and have told people about him who have commented on my noticeable weight loss.  It is one of the best decisions I have made in a long time.  More recently I have started to bring my teenage daughter along to the Saturday boot camps.  The most interesting thing is; I was not even looking for a personal trainer!  I came across a leaflet for FunFunActive in a school uniform shop, and the rest is history so they say!
Ali is professional at all times, knows what he's doing, extremely supportive, and very obviously passionate about helping others to reach their goals. So even if you have an "unfocused" moment, rest assured Ali will be right on the button in re-focusing your direction towards where you desire to be.
Highly recommended.
---
Rebecca Leslie
I have been training with Altesse for nearly a year and he has shown great pride and dedication in his work. Which he takes very seriously. This does not mean that we cannot have a laugh and a joke though. He has gone the extra mile with me to get results, which is greatly appreciated.
He has a gentle but authoritative manner and he will take no excuses for not getting the work done. It has been a long journey and incredibly hard work but the results are noticeable by myself and from compliments from others. My goals were weight loss and overcoming comfort eating both of which I am further down the road with, with Altesse help and support. Thank you.
October 2012